A four-foot fence is great for keeping your animals safe on your property. Most four-foot fences are designed to keep livestock from wandering off and getting on your neighbor's property or into the road. They can also help prevent your children from getting too close to country roads where drivers tend to speed. To build a durable wire fence that will protect your yard, you'll need to know what size T-post to use for a four-foot fence. Read on for details about how to use T-posts.
What Are T-Posts?
T-posts are steel fence posts used to support wire fencing. Also known as Y-posts due to their shape when viewed from the top, T-posts have an anchor at the bottom that helps them stay in the ground. Durable and long-lasting, T-posts are often made of rail steel.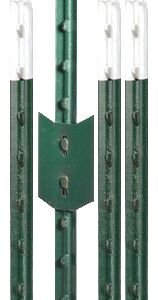 Choosing the Right Size T-Post
You can find T-posts in various sizes. Generally, they are available in lengths of five to ten feet. When figuring out what size T-post to use for a four-foot fence, remember that you will drive the posts about two feet into the ground. This means you need posts that are at least 24 inches longer than how tall you want your fence. For a four-foot fence, you should use T-posts that are at least six feet long.
How To Install T-Posts
If you are building a fence with T-posts, begin mapping out the perimeter of your fence by marking the corners. Use a post driver to pound T-posts into the corner marks for where you want your fence. Next, measure eight to ten feet for each additional supporting T-post and drive those into the ground as well.
Attach Fencing To Your T-Posts
To attach fencing, unroll your wire fence and lean it against the T-posts. You'll use barbed wire clips or fencing staples to attach your wire fencing to the T-posts. Begin at the corner and ensure the wire fits tightly to the posts.
For a sturdier fence, you may need to use wood posts. Additionally, you must replace barbed wire clips and regular fencing staples with regular maintenance of your fence. Use Fence Claws for a strong hold that lasts longer than U-nails. Fence Claws do not rust and are reusable. Get Fence Claws for your next project!
We're here to help unravel your queries! Connect with Cat's Claw Fasteners by reaching out to our Head Cat Collector, Chava, at chava@catsclawfasteners.com. Stay informed with our blog posts and follow us on Facebook, Instagram, Pinterest, and Youtube for more insights!
Read Next: Types of Fences that are Easy to Maintain